For anyone interested. Some more about the game I mentioned in another thread.
Might be good to know how a new player crashes into the game also.
Version 689dfa5. Crashed Helicopter and National Guard.
Normally, I would write delicate well-constructed prose about the emergent experiences in the game world, but I am enjoying it so much I am just going to copy-paste my notes so far and get back to the game…
Here is most of the island at day 66…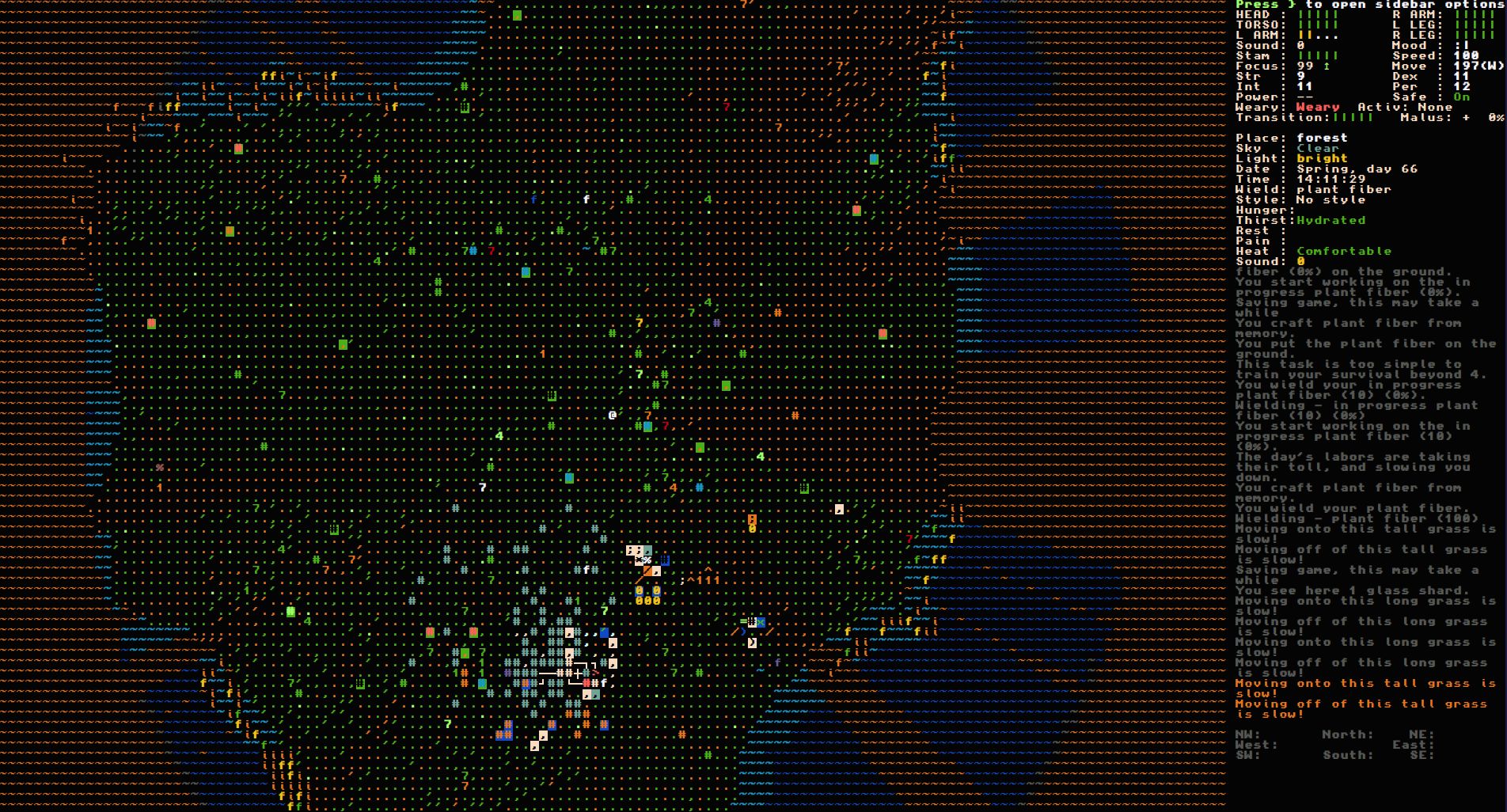 -snip-
Day 61
Started crashed helecopter on island.
Have go bag. MRE, multi-tool, clothes, lighter, medical stuff. Should keep me going while I figure things out.
Tried salvaging what I could, cut myself up on wreckage.
Decided to make a weapon as saw giant water-striders.
managed to get a stick from shoulder-checking small tree.
Saw beaver kill water-strider. Oh. maybe not the terrifying monster I imagined…
Or maybe just beware beavers…
Butchered strider.
Need hammering.
Desperate search for rocks. None.
Finally smashed a boulder, got rock.
Smashed up what bits of helicopter I could. cut myself more.
Tore up clothes, got rags, thread, made hammer.
Island has cattails.
Eat cattails. yum.
Try to make fire pit. make digging stick. Try to dig wreckage, cut myself more.
Need rocks. discover can get rocks by digging. Dig lots. Make fire ring.
Use tin can to make clean water store in bottles. Eat cat-tails. unhappy, eat cheese sandwiches. happy.
Make chopper. Chop things. Get logs.
Make cudgel. Kill strider. Butcher strider
Make chisel.
Make shovel.
Dig wreckage. Hooray, steel etc.
Day 66.
Make fibre from cat tails. Need lots for rope for raft. Hopefully enough. Gather, make.
Raft-boat hull 15 short ropes.
Cat-tail is 10 fibre.
Short rope 1800 plant fibre
Making plant fibre is tiring.
Also, might have to start cattail farm.
-snip-
Maybe more later.