Hello fearless modders,
Over the last week or so I've been developing a tool that can hopefully make editing the game JSON files in bulk a more streamlined and easy process. It's pretty simplistic right now, but I've gotten far enough that it can edit the properties of existing items and introduce new items to the game from start to finish, so I decided to share it.
I'd love all kinds of feedback at this point - bug reports and feature requests especially.
Here's the download. Just keep in mind that this is a rough alpha and it's probably buggy. It might mess up your game's data files, so you should back them up or edit a fresh copy of the game.
The current version is 0.1 r30. That version is only compatible with stable release 0.8 (Romero).
http://www.brianmacintosh.com/projects/catamodder/CataclysmModder_r30.zip
Alpha5 was the last version that was compatible with Cataclysm 0.7 (Lindqvist):
http://www.brianmacintosh.com/projects/catamodder/CataclysmModder_alpha5.zip
You'll need the Microsoft .NET Framework 4.0 to run this version.
http://www.microsoft.com/en-us/download/details.aspx?id=17851
The project is up on Github, which is a great place to post bug reports and suggestions.
https://github.com/BrianMacIntosh/CataModder
Here, I have written a complete beginner's guide to using the program to add a new item to the game:
http://smf.cataclysmdda.com/index.php?topic=2666.msg56265#msg56265
Here's a picture!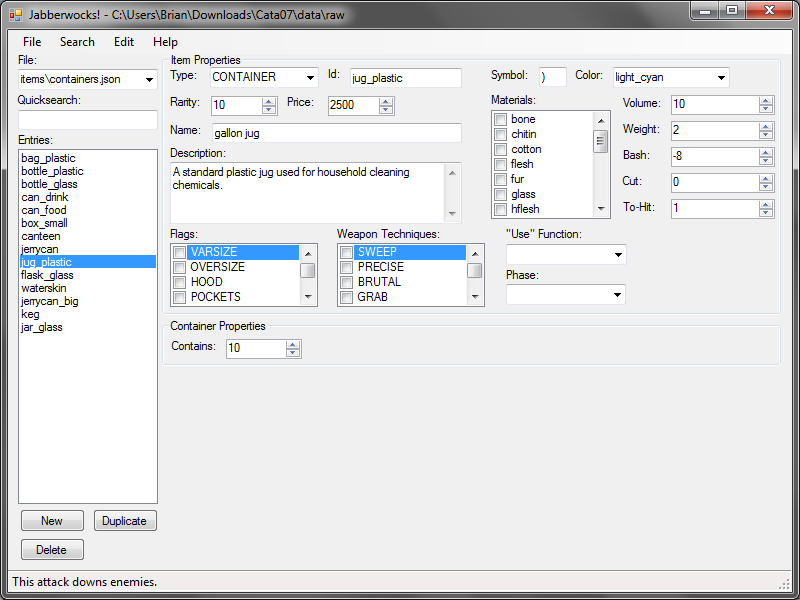 Have fun,
Brian